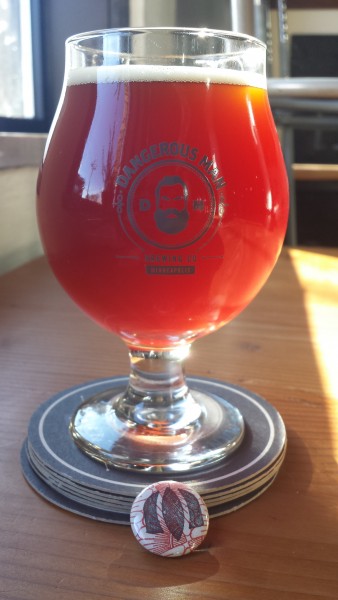 Time to wake up and get excited! Sun's out and we have a few more days until any serious snow starts (that IPA's starting to change the weather patterns; big magic in the works…)
Dangerous Man, Dogwood Coffee, the sun, the moon, local butterflies and beatniks are all happy to present the Dogwood Coffee Dubbel!
The Dogwood Coffee used was Ethiopia Amaro Gayo. Amaro Gayo is the only coffee with the fruit dried onto the bean. This lends a stronger fruity impression to the coffee, especially when it is hot steeped. Rob and Keigan added both hot and cold steeped Dogwood Ethiopian Amaro Gayo to their dubbel; this showcased both the fruit and roast aspects of the coffee which blended with the dark fruit notes already present in the dubbel.
The Belgian Dubbel originates in the Trappist brewery of Westmalle. At first it was a lighter brown beer with a lower alcohol content, though over time and competition with the Pilsner after World War II it increased in complexity and alcohol content. Today it is a widely imitated style. Brown, burgundy, with hints of garnet or ruby in color, the Dubbel is a beer forward in malt and stone fruit flavors. Belgian yeast provides spicy clove notes with hints of banana that back up the biscuit and bread flavors from the fairly simple malt bill. Candi sugars and syrups are often used to provide darker beers that are typically in the alcohol range of 6-8% abv.
This is a beer for the end of the world; drink local, drink Dangerous.