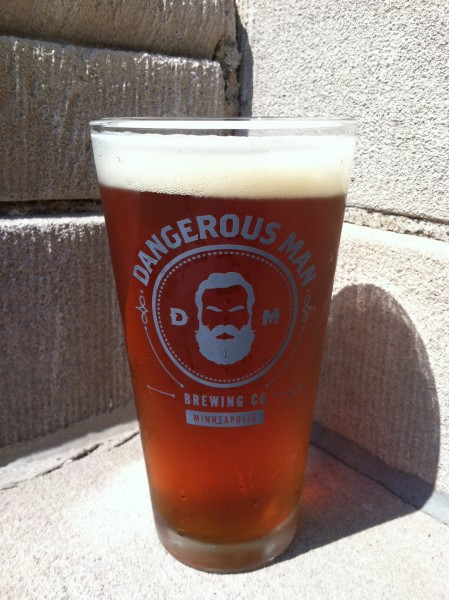 Dangerous Man Brewing is proud to release our Golden Promise Pale Ale! This pale ale features a mix of Scottish malt and Australian hops, accentuating, we think very clearly, that it is exceptionally dangerous. One doesn't #*&@ with bearded folk with strange accents in strange lands, unless one's brain is thinking sideways as well. It's best to be on the same page, we'd like the think.
The Golden Promise malt, showcased in this pale ale, is an early-maturing spring barley from Scotland. It has a very clean sweetness and a prominent biscuity flavor that is perfect for UK-style pale ales with their rich and malty flavor profiles. The color is a luminous straw to gold color and the malt provides an excellent sugar yield making it perfect for a base malt. Supplementary malts include Victory, Honey, and Carapils malts that further add to the malt sweetness, bread and biscuit, and large malt flavors and the big golden color. This pale definitely has a great malty backbone that helps to balance out the large hop additions.
The Golden Promise Pale Ale was first wort hopped with Millennium hops. The next hop additions were near the end of the boil at 15 and 5 minutes, and then whirlpool additions of Topaz. These late additions hops bring large flavor, aroma, and oil presence into the beer causing this Australian hop to be very present. Flavor profile of citrus, apricot, and a deep, dank nose blend with the strong malt backbone.Topaz might be the MacDaddy of Australian hops and once punched Mick Dundee in the face; the fight ended amicably with them beating up crocodiles.
The draw will be deep and malty, the flavor pungent and bright, and the overall experience is justifiably dangerous. I mean who are crazier than the Australians or the Scottish?
Scotchalians. That's who.
Now let's go get ourselves abducted. Drink local, drink Dangerous!